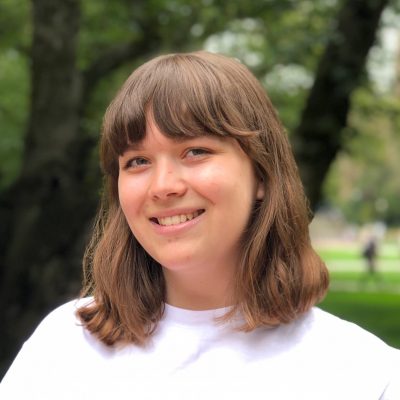 Hometown: A little bit of everywhere but Denver, CO right now!
Major: Economics
Favorite Place on the Ave: Ugly Mug and Allegro! The sandwiches at Ugly Mug are a hidden gem, they are SO good.
Favorite Song Right Now: "Gaslighter" by The Chicks
Fun fact: I'm currently teaching myself how to play the guitar! The only songs I can play right now are by Taylor Swift but I'm making progress!
What is your favorite part of UW?
My favorite part of UW is all the students! Everyone has their own story and adds something special to our community. I have made so many wonderful friends here and am constantly amazed at how incredible our students are. I learn something new every day from the people around me. My second favorite part of UW is that there is always a place I can buy coffee within a five-minute walk from wherever I am.
How did you get involved with ASUW?
I decided to join Student Senate at the beginning of my freshman year. At my very first meeting, a special election was held to fill a position on the Finance and Budget Committee. A senior Senator sitting nearby nominated me for the position (shoutout to Dan Tran), I won, and I had so much fun that I've been working in ASUW ever since then!
What does your job entail?
My job is to manage finances for ASUW. I support our entities and commissions by helping them spend their budgets in the most effective way so they can achieve their goals for the year. I work creatively to come up with solutions to funding problems, and I make sure we don't overspend our budget. I also manage the Special Appropriations fund, where RSOs can apply for funding to help support their events. I help make sure ASUW runs smoothly and do everything I can to support students by providing the funding they need to be successful!
What is your favorite part of working for the ASUW?
My favorite part of working for ASUW is the community that I am a part of here, and the larger community I get to serve. My coworkers are some of the brightest and most caring people I know. Working alongside them to serve students every day is an opportunity that I will always be grateful for. The broader UW community has given so much to me, and I love being able to do what I can to give back.
What career do you hope to pursue long term?
I'm not entirely sure right now, but I'm considering going into psychiatry. I might also go to grad school for economics. I still have some time to keep going back and forth between the two, so that's a decision for future Alece.