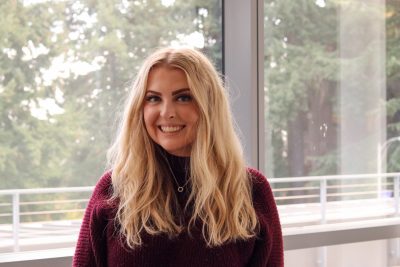 Name: Madi Welsh, (she/her)
Contact Information: asuwbdcm@uw.edu, Link to Office Hours
Year: Senior
Hometown: Edmonton, AB, Canada
Major: Law Societies & Justice and Political Science
Favorite Place on the Ave: Cafe on the Ave!! (and Aladdins)
Favorite Place on Campus: Suzzallo Starbucks and the ECE 3rd floor study tables
All-Time Favorite Music Artist: Bazzi
What is your favorite part of UW?
My favorite thing about UW is the sheer amount of opportunities available in the realm of student life and how those communities intersect. I have loved that UW has provided me with communities across many different areas and groups of campus. I have greatly enjoyed getting to develop my passions and leadership capacities while meeting so many cool people with different backgrounds and interests.
How did you get involved with ASUW?
I began getting involved in ASUW when I joined Student Senate my sophomore year and was a member of the oversight committee! I really enjoyed my time on Senate and decided to then apply for some internships with ASUW. That same year, I became an intern for the Director of Community Relations on Board and had an OUTSTANDING experience. I owe a lot of my positive memories to Sarah Shaklan, who held the position at that time, and the three woman I interned with. We had so much fun working on connecting and advocating for various UW communities and holding that internship is what invigorated my passion for student life involvement. I am excited to be ending my last year in undergrad on the ASUW Board of Directors!
What does your job entail?
My role as Communications Director has a few different layers and I am really lucky to be able to serve on the Board of Directors while also leading the Office of Communications and supporting the various communications-based needs of different entities. On Board, I help advise and guide internal and external communications and help with things like campus emails and media inquiries. As Director of the Office of Communications, I lead a team of seven awesome people that support the ASUW and its entities in terms of system administration, multi-media coordination, visual design, branding guidance and general online/web support. Most of all... I advocate for student and entity needs in terms of communication on campus as a student leader!
What are your goals for the future, beyond UW?
I am really passionate about social justice in terms of legal system reform and am in the process, currently, of submitting my applications for law school! I am wanting to go on to be a lawyer in either the criminal or juvenile fields. I am a big time true-crime podcast listener and really enjoy the forensic science aspect involved in criminal litigation and trials. I also just completed an internship this summer working in the adoption-field and had the opportunity to research adoption law and attend some Pierce County Juvenile Court hearings - which I really enjoyed - so we will see where the future takes me!