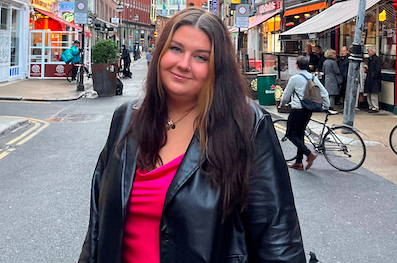 Name: Avery Perreault, (she/her)
Contact Information: asuwbdcm@uw.edu, Link to Office Hours
Year: Senior
Hometown: Livermore, California
Major: Law Societies & Justice, minor in Human Rights
Favorite Place on the Ave: Cafe on the Ave!! 
Favorite Place on Campus: HUB 121 Front Desk (shoutout to the coordinators) <3
All-Time Favorite Music Artist: Taylor Swift
-
What is your favorite part of UW?
I love the school spirit and the pride that people have to be a Husky - UW pride is clear across Seattle, and I love being a part of a community that continues after graduation.
How did you get involved with ASUW?
One of my best friends made me go to a Senate meeting with him freshman year, and I never looked back! I started as external affairs intern for Student Senate and then ran to be Student Senate Membership Coordinator sophomore year. I went abroad junior year, and then came back to work as ASUW Communications Director!
What does your job entail?
I am the Chief Marketing Officer of the ASUW! I lead an entity of 6 student employees who do all things marketing and communications, from tech to visual design. I create and enforce all marketing guidelines, write & copy-edit all ASUW speeches and press releases, run ASUW social media (follow us @asuwseattle on everything), advise the Board of Directors, manage communication channels, and interface with outside entities. I get to work with so many amazing, dedicated student employees and make sure that their hard work gets the recognition and marketing it deserves!
What are your goals for the future, beyond UW?
My goals after UW are to work on Capitol Hill in Washington DC, hopefully in political communications! I want to continue doing work that makes this world a better and more inclusive place. I think a vital part of making this happen is changing how we communicate with people of different identities and ensuring that people are aware of the resources available to them. I would also love to pursue law school one day and become a Human Rights Lawyer.