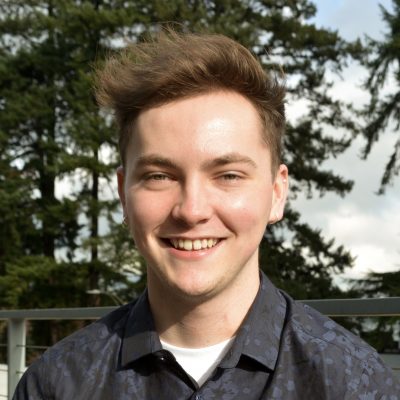 Hometown: Oley, PA
Major: Communications and Geography
Favorite Place on the Ave: Noodle Nation
Favorite Song Right Now: "Lost Angeles" by The Aces
Fun fact: I once met Joan Rivers at a bat mitzvah!
What is your favorite part of UW?
I love that UW draws people from all backgrounds, all interests, and all skillsets to (hopefully) work together to contribute towards a greater good for Seattle, Washington state, the United States, and the world. I remembering choosing UW because it seemed to have every opportunity I could ever imagine and, coming from a small resource-poor high school, that meant everything to me. I love attending this university because it feels like my own little version of Starship Academy, where cultures, languages, and ideas are exposed to each other and create an incredible kaleidoscope of human ingenuity. The people I have come to know and love here at UW inspire me every day to do my best and to leverage my privileges for good.
How did you get involved with ASUW?
In my first year at UW, I was a mentee in UWLeaders where I met incredible people who were just as passionate and motivated as I was. In my second year, I was appointed as the ASUW representative to the Campus Sustainability Fund Committee, where I was able to act as a student voice while also pursuing my interest in sustainable development (I'm now the chair of the CSF committee so ask me about that!). In my third year at UW, I was employed by ASUW as the Chair of the Elections Administration Committee, which is tasked with organizing and operating the student body elections for our eight elected Board of Director positions. This was an awesome experience because I got to work with groups all across campus to truly empower student voices and promote all the opportunity that ASUW has to offer. Now, as I enter my fourth year at UW, I am so honored to be serving as the Communications Director for our student government.
What does your job entail?
As the Communications Director, I serve multiple roles across multiple facets of the Association. First, as the Chief Marketing Officer, I am responsible for facilitating all external communications for our student government, whether that be through entity event promotion or accessible website design or news media inquiries and more! Second, I manage a staff of six paid ASUW employees within our Office of Communications who help make sure that we're looking good at all times and that internal communications are running smoothly. Lastly, I sit as an ex-officio member of the ASUW Board of Directors. This means that while I don't have voting abilities, I still contribute to the Board's voting decisions with perspective and input that relates to our public image and community impact. All three of these roles come together to form the robust job of Communications Director, which I could not be more happy or honored to be serving in this year!
Favorite part of working for the ASUW?
THE PEOPLE! It is often said that because UW is such a large university, it can be difficult to build community and find belonging here. Luckily for me, being a part of ASUW is easily the most fulfilling, exciting, and challenging aspect of my college experience. The friends I have connected with here continue to inspire, motivate, and validate me, and I am so grateful to be a part of this organization's long and important legacy of advocacy. I love that ASUW is like a "lab" for students, in that we are able to do impactful work and see the results spread across campus. I may be biased, but I think that ASUW is the best-kept secret at this University…
What career do you hope to pursue long term?
You mean I have to think about my life after graduation? Wow, that's scary… Well, my aspirations certainly seem to reshape themselves day by day. Right now, I'm hoping to go into non-profit or public sector advocacy work, particularly focusing on public health, community empowerment, and equitable justice. There's a lot of work that needs to be done with dismantling racism, colonialism, and many other forms of systemic oppression, and I hope that I can be of service on that front. I've also been studying the Spanish language for a long time but have never been able to travel abroad, so ideally my long-term career goals involve working or studying in another country. No matter what, I know that I want to be involved in public service and committed to helping others.