ASUW :: Associated Students of the University of Washington
President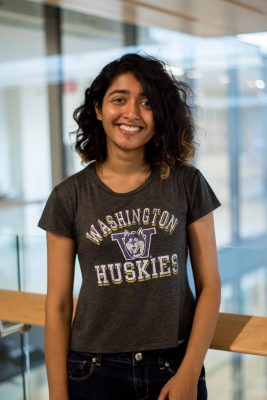 Ritika Jain, President
Hometown: Vancouver, WA
Major: Bioengineering
How did you get involved with ASUW?
I started by serving as an intern for one of the ASUW Diversity Commissions, where I helped put on programming and served as an informal liaison to many constituent groups. Because one of my friends was the QSC Senate representative, I joined that as well, and quickly learned more about the ASUW world. Since then, I've been part of the Special Appropriations Committee, was an ASUW representative for the Services and Activities Fee Committee and for the Provost's Advisory Committee for Students, and my experiences in ASUW and in other parts of campus made me realize how I could use the knowledge I'd gained to serve students on the ASUW Board of Directors.
What does your job entail?
My job is essentially to advocate for all of you. As ASUW President, my main role is to serve as the voice of the entirety of the student body, working with other student leaders, faculty, administration, Board of Regents, and state legislators to bring student opinion to the forefront of all decisions made at the University and at the state level.
Favorite part of working for the ASUW?
I really love being able to meet new people and understand how, despite our differences, we're able to come together to try to make the University a better place for all future Huskies. I'm also super interested in how UW functions on a broader level, how budgets are allocated, and how student feedback is integrated into these processes, which is exactly what a lot of my job entails!
What career do you hope to pursue long term?
Over the past three years, in addition to ASUW, I've worked in several research labs, both here (in our Department of Bioengineering) as well as across the country (at the Oregon National Primate Research Center in Beaverton, OR and at the National Institutes of Health in Bethesda, MD). Because of those experiences, I've realized that I want to pursue further education by attaining a Ph.D. in Biomedical Engineering, and then using that experience to continue working on cellular engineering and regenerative medicine with a focus on translational applications.