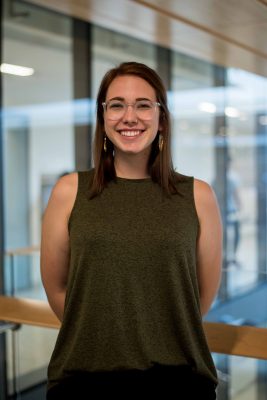 Kendra Ramsey, Personnel Director
Hometown: Whitney, Texas
Major: BA Psychology, Minor in Education, Learning and Society
How did you get involved with ASUW?
Before I came to UW, I already knew I wanted to pursue a Psychology degree with the ultimate goal of going to graduate school for Industrial and Organizational (I/O) Psychology. In my first year, while I was looking for ways to get involved, I discovered the ASUW Personnel Committee. That opportunity allowed me to explore an indirect line to I/O psych. I fell in love with the hiring process my Freshman year and decided to sit on the committee again Junior year. Now, in my Senior year, I have the privilege of sitting on the BoD as the Personnel Director and working closely with each of our wonderful and inspiring employees.
What does your job entail?
As the Personnel Director I serve as the head of Human Resources for the entire ASUW. I am the employee's advocate on the Board of Directors and a resource to them both professionally and personally. I also ensure employee accountability for job performance. Now, as the chair of the Personnel Committee that I gained so much from, I lead the team and coordinate employee hiring in the Spring. I evaluate and improve entity personnel and hierarchical structures to promote more effective and efficient work environments. And finally, I work to promote a healthy, productive work environment within the ASUW by providing careful attention to each employee's needs, and by encouraging positive morale.
Favorite part of working for the ASUW?
My favorite part about working for the ASUW is seeing programming and services that positively impact students on campus. The power of that programming comes from the fact that it is students providing for students. The ASUW strives to create opportunities for all student needs and interests. Additionally, the ASUW provides its employees with valuable experiences and translatable skills that they can take into their careers after graduation.
What career do you hope to pursue long term?
After my time at UW, I plan on working in Human Resources for two years before applying for doctoral programs in I/O Psychology. I have recognized a passion for improving hiring processes and middle management that I wish to pursue in a consultant role. I would also love to create a series of workshops specifically focused on how managers can intentionally support their employees to improve engagement and work satisfaction.