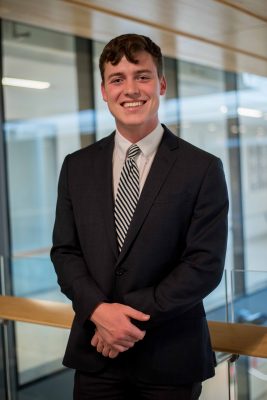 Jack Hood, Director of Programming
Hometown: Lafayette, California
Major: B.S. Biology and Professional Sales Certificate
How did you get involved with ASUW?
I initially became involved with ASUW because of the people working here. After meeting the passionate, driven, and kind people working at ASUW before my time, I knew I had to be a part of it to help other students as I had been helped myself. As the Community Outreach intern for the Student Health Consortium last year, I was proud to contribute to the students of UW's well being, and I knew that I wanted to keep that going on the ASUW Board of Directors.
What does your job entail?
I liaison to hundreds of registered student organizations (RSOs), Rainy Dawg Radio, the Student Health Consortium and ASUW Arts & Entertainment. I serve on the Finance and Budget Committee as well as the Special Appropriations Committee which evaluates funding requests from various RSOs for the purpose of executing events on our campus. From the Everybody Every Body Fashion Show to W Day; If there's an ASUW event or program, odds are I am likely involved!
Favorite part of working for the ASUW?
I love to meet students and RSO's on a daily basis in order to organize programming around student interests and needs in and around campus. Meeting students with unique perspectives while serving on my position as Director of Programming really completes my day, because "If I can't speak with you, I can't speak for you."
What career do you hope to pursue long term?
As a shameless optimist and extrovert, I plan on diving into the world of professional sales. By combining my STEM and Business backgrounds, I wish to eventually work in a Medical Device Sales position. With a dream of bringing technology such as advanced prosthetics, orthopedics, or diagnostic tools to the world, I wish to help modern medicine solve problems previously believed to be unsolvable.