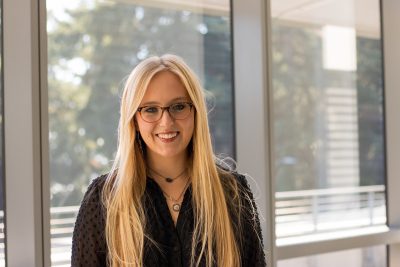 Name
: Kaitlyn Laibe, (she/her)
Contact Information:
asuwvp@uw.edu
,
Link to Office Hours
Year:
Junior
Hometown
: Phoenix, AZ
Major
: Law, Societies & Justice
Favorite Place on the Ave: 
Cafe on the Ave
Favorite Place on Campus:
The Suzallo Library
Fun Fact:
I have two one-eyed rescue pugs! (One is named Squirrel)
What is your favorite part of UW?
When I first started doing college tours my senior year of high school, I felt an unmeasurable sense of dread. While all of my friends were committing to their dream schools or falling in love during their tours, I felt like I was in a limbo. No college seemed "right", no tour had me envisioning my future there, and I felt stuck. On a limb, I decided to tour UW, having heard amazing things about the school, but never having looked too far into it. By the end of the tour, I turned to my mom with the biggest smile on my face and said, "This is it. This feels "right". As cliche as it sounds, my favorite thing about UW is that it feels like home. From the proximity of UW to one of my favorite cities to the gorgeous architecture on campus to the incredible culture of learning and the amazing Honors college - UW has always just "felt right" to me. The longer that I attend the University, the more this feeling grows and UW has truly become my home away from home.
How did you get involved with ASUW?
Funnily enough, I was minimally involved in ASUW and then suddenly it was my life. I knew about ASUW from some of my Honors peers, but was never able to attend Senate or related meetings because I was busy competing for the UW Mock Trial team. When the mock trial season ended in Spring 2020, I decided to start attending Senate (this was when we had just gone online). I had only been a part of senate for a couple of weeks when the Spring Quarter ASUW Jobs Campaigns launched. I started doing some research on HandShake about the jobs and found a commission whose mission and vision statement I absolutely fell in love with (The Womxn's Action Commission). I began attending WAC weekly meetings and applied for the Director position. After going through the hiring process, I was hired to be the new Director for the commission for the 2020-2021 school year! I LOVED my job last year - more than I thought was humanly possible and it's because of that love that I ended up running for Vice President. I thought that my prior experience as an entity director would give me crucial insight into revitalizing ASUW internal operations. I look forward to that being the case this year!
What does your job entail?
As the Vice President, I am the chief operating manager of the Association. While that title sounds overly fancy, what it really means is overseeing and managing anything that is internal to the association (all employees, entities, etc). As an internal-facing board member, I work very closely with the Personnel Director (who is Antonio Gonzalez this year), as well as actively checking in with the different ASUW commissions/entities. This year, I'm also hoping to see this role take on some new challenges - including the implementation of ASUW-wide caucuses! If you have any questions/comments about what my job entails, please feel free to email me (asuwvp@uw.edu) or drop by my office inside the HUB!
What are your goals for the future, beyond UW?
More than anything, I want to be a part of something that creates and inspires change. For me, I think this means being a part of reforming education to be more accessible and inclusive. Other than that, I'm not sure exactly what awaits me beyond UW. I've bounced between the idea of attending law school and grad school for the past couple of years, so fingers crossed I make up my mind soon!