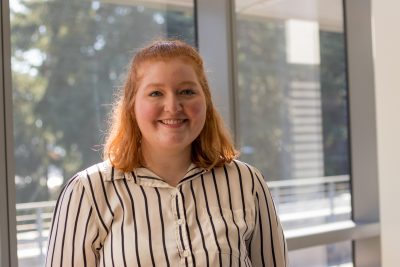 Name: Sarah May, (she/her)
Contact Information: asuwssvc@uw.edu, Link to Office Hours
Year: Junior
Hometown: Bakersfield, CA
Major: Political Science and English
Favorite Place on the Ave: (Not technically the Ave) but Cedars is worth the exception!
Favorite Place on Campus: I love the UW Botanical Gardens!
Fun Fact: I have lived on three different continents!
What is your favorite part of UW?
I love that it's so big and there are so many different academic departments to choose from. UW students have so many opportunities to take cool and interesting classes outside of their department. I have definitely taken advantage of this and added two minors on top of my majors because I just couldn't pick!
How did you get involved with ASUW?
I started as a student senator and EAC volunteer my freshman year and decided to apply for a job as the Senate clerk to get more involved and learn about the internal workings of ASUW. That job gave me exactly the experience I was looking for on top of introducing me to some incredible people.
What does your job entail?
I am the Senate parliamentarian which means it's my job to advise the Speaker on Senate rules. On top of that I help students write legislation and liaison to the Board of Directors to advocate that passed Senate legislation be made official student opinion by the Board.
What are your goals for the future, beyond UW?
After I graduate I would love to continue working with policy and communities through government, nonprofits, or community work!