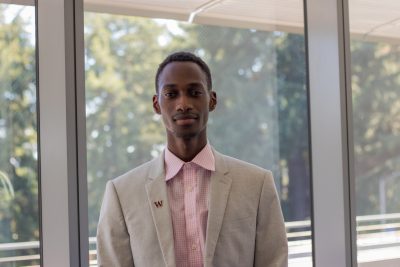 Name: Mustapha Samateh, (he/him)
Contact Information: asuwpres@uw.edu, Link to Office Hours
Year: Junior
Hometown: Gambia, West Africa; Seattle, WA
Major: Political Science
Favorite Place on the Ave: Bugis
Favorite Place on Campus: The HUB!
Fun Fact: I'm a professional fashion model
What is your favorite part of UW?
When I was growing up basic or higher education was not accessible to all back in my home country. I appreciate being admitted to UW to pursue my educational journey. I appreciate the Husky Promise Initiative and Scholarship, because it allows for many students to pursue their academic goals at UW with little financial worries, my self included.
How did you get involved with ASUW?
During my first quarter at UW I was elected Chair for the Student Senate Academic and Administrative Affairs committee, and in my second year in Student Senate I served as the Vice Speaker. I was able to connect with more folks in ASUW and worked on many projects including a working group we created with transfer students to look into how we can improve their academic and student life experience at UW. I believe that one of the things that separate students from marginalized communities from everyone else is the opportunity for participation and representation. I choose to pursue my roles in ASUW because I want to be a representative for my community and help advocate for opportunities and spaces that welcomes all students to grow from all corners of our campus.
What does your job entail?
I see my role as more of the Student Representative because it involves a lot of interfacing between the different levels of administration at our university and my fellow students. I represent students' interest at the Board of Regents (the highest decision making body at UW) and the Faculty Senate (the faculty version of student government). The President's role is mostly seen as the external-facing member of ASUW but I work closely with the Board of Directors to ensure that our association is operating smoothly in all areas to serve our students.
What are your goals for the future, beyond UW?
Before moving to the United States I worked with the United Nations International Children's Fun as a youth representative in advocating for Child's Right. I had the opportunity to work with government officials and representatives from the UN to develop strategic planning on policies that geared towards the welfare and development of children and young people in The Gambia.
Therefore, my passion for studying political science comes from my involvement with UNICEF, and now I aspire to be a diplomat and work for the United Nations in areas of humanity and peace keeping.