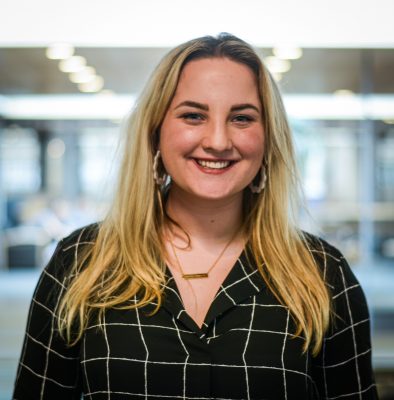 Name: Kelty Pierce
Hometown: Puyallup, WA
Major: Communication and minors in Drama and Diversity
Fun fact I tore my ACL on an airplane!
Current fave song: Like a Girl by Lizzo
How did you get involved with asuw?
I got involved in ASUW Senate my first year, became a member of the Personnel and Judicial committees, and volunteered with the Office of Government Relations. I went on to serve as the chair of the POM-COM Committee in senate.
What does your job entail?
As the ASUW President I am the CEO of the association, the representative to the Board of Regents, chair of the Board of Directors, the liaison to admination, and the external face of the association. I also lobby to legislators on behalf of students, coordinate with the tri-campus leaders, and ensure that the ASUW is executing our mission in our work.
Favorite part of working for the ASUW?
My favorite part of working for the ASUW is the opportunity to connect with and serve students! I believe in the power of community, and so it is great to work with so many folks who are passionate about serving students.
What career do you hope to pursue long term?
I love working directly with people and community organizing, and so I would love to continue to use my voice to advocate for folks and build and strengthen community. I am also passionate about education, politics, health care, and theater.