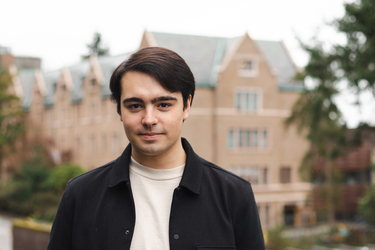 Name: Antonio Gonzalez (he/him)
Contact Information: asuwpd@uw.edu, Link to Office Hours
Year: Senior
Hometown: Tacoma, WA
Major: Political Science and English Minor
Favorite Place on the Ave: Jai Thai
Favorite Place on Campus: City Grind At the Henry
Fun Fact: I saw Connor Franta at LAX
What is your favorite part of UW?
My favorite thing about UW is that no matter how big and busy the university is, I can always find communities and support systems. Being someone who is a first-generation college student, I did not have a long history to look back on but with the help of my peers and professors, I was able to navigate my way around and find my place! Not to mention the location and coffee choices!
How did you get involved with ASUW?
My junior year, I was the Director of Internal Policy which was a member of the ASUW Board of Directors. Prior to this experience, I worked with various RSO's and programs on campus that exposed me to ASUW!
What does your job entail?
The Personnel Director serves as the Chief Human Resources Officer for the ASUW, assuring employee accountability, a cohesive work environment, and all hiring and disciplinary procedures. The position manages all ASUW employees in accordance with the vision of the Board of Directors and confirms that all employees are meeting their office hours and progress in their positions. On the Board of Directors, the Personnel Director acts as an employee representative and ensure that the association is acting in compliance with the ASUW Personnel Policy.
What are your goals for the future, beyond UW?
I am currently studying for the LSAT! Come fall, I will be applying to law and graduate programs! My goal is to become a real estate, family, and probate attorney after graduating. I would love to stay in the Seattle area or venture off to California or Washington DC, but stay tuned!