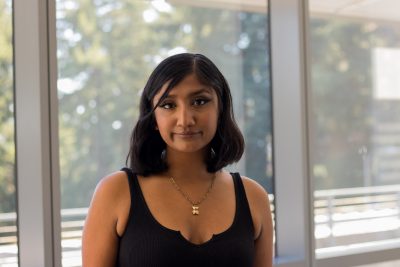 Name: Ruba Ayub (she/they)
Contact Information: asuwbdpg@uw.edu, Link to Office Hours
Year: Junior
Hometown: Tukwila, WA
Major: Sociology
Favorite Place on the Ave: Punjabi Burger Hut
Favorite Place on Campus: Top floor of Allen library
Fun Fact: I love to paint and write in my free time!
What is your favorite part of UW?
Close to home & my community.
How did you get involved with ASUW?
Last year, I applied for the diversity efforts intern position because I wanted to bring change by starting more conversations related to addressing institutional inequalities and racial accessibility gaps. I was already doing this work via YouthVoicesforJustice that I help found along with community members from Soufend. Overall, I wanted to bring what I had learned, experienced, witnessed to UW and inform more students on the socioeconomic conditions of poor inner cities. I hoped to address organizational inequities so students can push for change & be a part of the change my community wishes to see.
What does your job entail?
As Director of Programming, I am in charge of all inter-ASUW programming, as well as liaising between Rainy Dawg Radio, A+E, the Student Food Co-operative all RSOs and the Board of Directors. From helping create events to supporting RSOs, my entities, and student body so they feel included. I also want to push for more Black, Indigenous, Latinx, People of Color centered safe spaces. As well as restorative justice healing circles.
What are your goals for the future, beyond UW?
I want to go to law school and be a criminal Defense Attorney. Later, I plan to move back to my motherland, Pakistan, where I hope to build schools for girls.