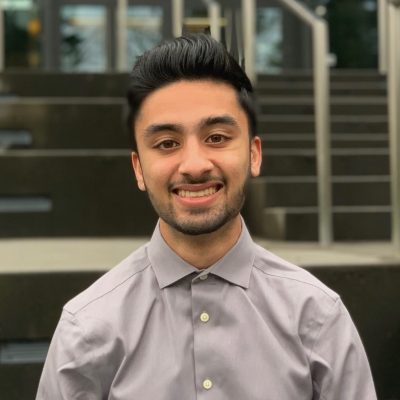 Hometown: Bellevue, WA
Major: Economics
Favorite Place on the Ave: Alladins
Favorite Song Right Now: "No Role Modelz" J. Cole
Fun Fact: I've been making hip-hop music since I was 17 years old!
What is your favorite part of UW? 
I love being part of a "big school". I love that we have a large, diverse student body, especially coming from a smaller high school, because there's so many unique perspectives that we can tap into. We also get the advantage of have a strong school spirit and great football and basketball teams (sko dawgz)! I also think UW gives people an opportunity to experiment and try new things without feeling like the whole world is watching you, which has definitely helped me step out of my comfort zone over my four years here.
How did you get involved with ASUW?
I was lucky enough to know two other current Board of Directors (BOD) members (Clara and Rachel), and Clara actually reached out to me and convinced me to run for Director of Programming. Prior to that, I had no direct experience with ASUW, though I had done similar work for my RSO, TEDxUofW. I'm so thankful for Clara, Rachel and Camille in particular for helping me navigate all the different moving parts within ASUW, and I'm super excited to work with the entire BOD this year 🙂
What does your job entail?
As Director of Programming, I am in charge of all inter-ASUW programming, as well as liaising between Rainy Dawg Radio, A+E, the Student Food Co-operative all RSOs and the BOD. In the current pandemic climate, this means I am focused on creating events that allow the student body to feel connected from wherever they are learning from, and supporting my entities and RSOs as they make the shift to remote programming. I am also a member of the Finance and Budget Committee, where I vote on bills related to the Special Appropriations Fund for RSOs.
Favorite part of working for the ASUW?
Believe me when I say that ASUW is made up of some of the most intelligent, hardworking individuals I have ever seen. You don't get elected or hired to a position here unless you are uniquely qualified for it, and when all these minds come together, you get some of the coolest collaborations. There are times I just need to step back and just marvel at how well some of these entity leaders have adapted their whole team to work within COVID guidelines; it really inspires me to do more and match their energy!
What career do you hope to pursue long term?
In early October I accepted an offer to join Microsoft as a Financial Analyst next September, so unless something very unexpected happens that's where I will be for at least the next two years. I do hope to live outside of Washington for at least a little while, since I've spent most of my life in Seattle and the Eastside, but right now my focus is on making the most of that opportunity and not worrying too much about the distant future!