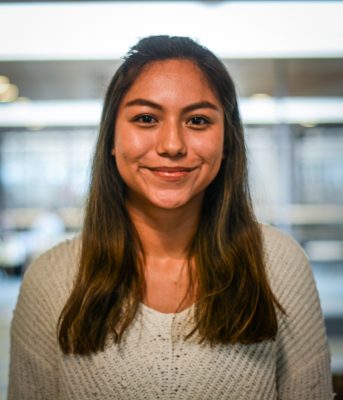 Name: Daniella Calasanz Miño
Hometown: Olympia, Washington
Major: Psychology & Communication
Fun fact: I was born in NYC and like all New Yorkers I am a biiiig fan of hip-hop and those little bacon, egg, & cheese sandwiches they sell at bodegas.
Current fave song: Anything Nipsey Hussle, R.I.P.
How did you get involved with asuw?
Once I decided to get involved in ASUW, I did not hesitate on applying to internships and finding my best fit. Due to my previous event coordinating and leadership experience, I knew what I liked, what I wanted, and what my strengths and weaknesses were. When I accepted an offer to be one of my predecessor's interns I was excited to gain further experience in a field I was interested in. After my Director of Programming internship, I decided to run for the position with a vision of being a compassionate leader who cultivates a collaborative atmosphere that is equitable and inclusive towards everyone. My advice for anyone looking to get involved is to be specific about what work interests you and what it is that you want to accomplish during your time here.
What does your job entail?
My job is to oversee all inter-ASUW and general collaborative programming and liaison to Arts + Entertainment, Rainy Dawg Radio, the Student Food Co-op, and all RSOs on campus. I also serve on the Finance & Budget committee where I help allocate funds to help RSOs bring their events to life and serve their respective communities. From W Day to the Everybody Every Body Fashion show, if there is a large ASUW event happening on campus, odds are I played a role in bringing that program to life! 🙂
Favorite part of working for the ASUW?
Easily my favorite part of working for ASUW is all the incredible people I work with. From my fellow board members to all the entity directors and every single person in between. I have met some of the most dedicated, passionate, and driven people during my time here at ASUW. Everyone is contributing their own slice to making ASUW do its job of advocating for and enriching students lives.
What career do you hope to pursue long term?
I hope to go on to get an advanced degree in Industrial-Organization Psychology or another related psychology field. IO psych applies psychological principles and research methods to solve problems in the workplace and increase productivity. My current job on the board has to do with what I want to pursue long term because I manage people and budgets right now and IO psychologists study management, employee working styles, leadership, & more!