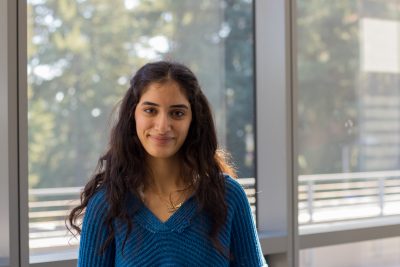 Name: Nicole Hishmeh (she/her)
Contact Information: asuwbdop@uw.edu, Link to Office Hours
Year: Senior
Hometown: Westlake Village, CA
Major: Political Science and Law, Societies, & Justice
Favorite Place on the Ave: Tea Republik  
Favorite Place on Campus: Anywhere around North Campus
Fun Fact: I am a twin
What is your favorite part of UW?
The friends and independence I have gained since moving from California.
How did you get involved with ASUW?
Last year, I started interning with the Middle Eastern Student Commission as well as advocating for our entity through the Student Senate.
What does your job entail?
As Director of Internal Policy I am responsible for attending Board of Director meetings, leading the Judicial Committee, and working with the Senate, Graduate Professional School Senate, and EAC. Additionally I advise on anything pertaining to the ASUW Constitution and bylaws.
What are your goals for the future, beyond UW?
In the future, I hope to go to law school and ultimately practice either business or international law. I am also passionate about human rights and would love to do pro bono work on the side.