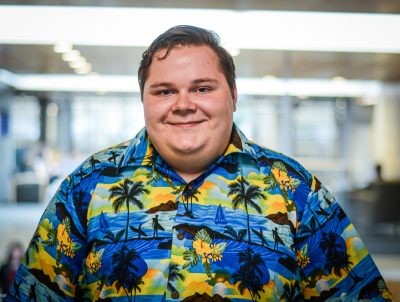 Name: Cooper Robertson He/Him
Hometown: Edmonton Alberta Canada
Major: Political Science
Fun fact I have broken all of the bones in my right arm.
How did you get involved with asuw?
I have always been passionate about politics and law. I had wanted to engage with student government in some capacity for a while in order to advocate for increased mental health resources for students. I saw an opportunity to get involved and decided to run for the role that best fit my experiences.
What does your job entail?
Working to ensure that the ASUW is as transparent as possible, maintaining our records and ensuring that we are maintaining proper standards as a board. I also chair the judicial committee, and serve on the EAC. I also serve as the liaison to the Graduate and Professional Student Senate.
Favorite part of working for the ASUW?
Working with all of the people that make up the ASUW is definitely the best part! I also love working with the Graduate and Professional Students that make up the GPSS. I also love the chance to have an impact on what issues ASUW tackles to improve the lives of students!
What career do you hope to pursue long term?
I would like to serve as a prosecuting attorney, before transitioning in the the sphere of politics at both the state and federal level.