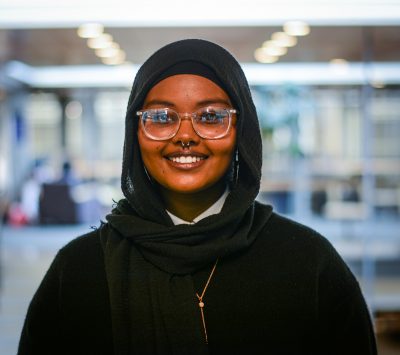 Name: Sahra Ibrahim
Hometown: Seattle, Washington
Major: Political Science, and Medical Anthropology
Fun fact I met COIN, had a beautiful conversation with them and as they were leaving Joe Memmel said he liked my earrings. Top 10 happiest memories
Current fave song: Jopping by SuperM
How did you get involved with asuw?
I first joined ASUW as a senator my 3rd year. During my 4th year I become Black Students Unions protected seat senator, and an Intern for Black Student Commission. Through my involvement with JCC I was able to meet more people in ASUW and further my involvement.
What does your job entail?
As the director of Diversity Efforts, I liaison to the eight ASUW Diversity Commissions that are committed to making the student experience at the University as dynamic and engaging as possible! I also serve as a member of SAB and liaison to other diverse centers on campus (Kelly ECC, Q Center, FIUTS, etc.) Ultimately my role as diversity Efforts is to support these commission directors with any and all diversity programming and advocacy events in an effort to create an inclusive, equitable and comfortable space for all students!
Favorite part of working for the ASUW?
Being able to contribute and work with so many different people to create programming and advocacy events. As well as being in a space where everyone around you is fighting to make change on campus is empowering.
What career do you hope to pursue long term?
After getting a Graduate degree in Public Policy I hope to spend sometime working in a space that focuses on advocating for marginalized communities. Then later continuing my higher education and getting a PhD.