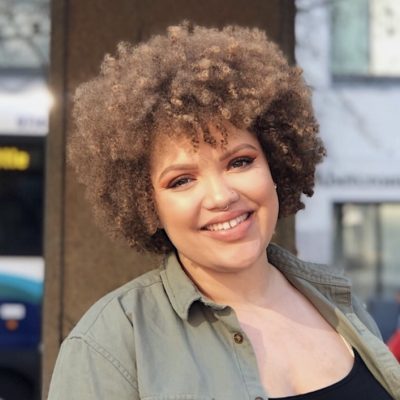 Hometown: Wherever I'm located, but I graduated high school in Moses Lake, WA.
Major: Education, Communities, and Organizations and Political Science
Favorite Place on the Ave: Aladdin's Gyro-Cery and WOW Bubble Tea
Favorite Song Right Now: I don't have one favorite song… But I've been listening to the artist Celeste a lot recently, aka the past 24 hours, and started with the song "Strange – Edit." Check it out!
Fun Fact: 
I spent well over 5 hours trying to find my favorite song for this.
What is your favorite part of UW?
My favorite part of UW is the proximity to opportunities to grow and develop both my community-centered work and professional skills. I've had such amazing experiences inside and outside of the classroom that I wouldn't have the privilege to access otherwise.
How did you get involved with ASUW?
I was an intern for the Black Student Commission during my second year at UW and attended Student Advisory Board meetings as well as worked on programming and advocacy for Black students. Shoutouts to Lona, Sahra, and Alex: who are/have been leaders within ASUW and continue to inspire me. As an Orientation Leader for First Year Programs, my colleagues/friends encouraged me to run for a seat on the ASUW Board of Directors to continue serving students. Why not?
What does your job entail?
The Director of Diversity Efforts chairs the Joint Commissions Committee and liaisons to the nine student-led ASUW Diversity Commissions that create dynamic, accessible, and intersectional spaces for community engagement. This position is an ex-officio voting member of the OMA&D Student Advisory Board and a liaison to various diversity entities including the Diversity Council, ECC, Q Center, FIUTS, Women's Center, Intellectual House: wǝɫǝbʔaltxʷ, D Center, etc. Overall, the role of Diversity Efforts is to support ASUW student commission directors with diversity programming and advocacy efforts to foster an inclusive and equitable space for all students! This further includes collaboration with the broader campus community to ensure the research, assessment, and promotion of diversity.
Favorite part of working for the ASUW?
My favorite part of working for ASUW is connecting with diverse communities and building authentic relationships.
What career do you hope to pursue long term?
Wow, what a big question for a senior in undergrad. Long-term, I'd love to go back to school and get a masters degree in Public Administration and/or masters + PhD in higher education, AND definitely a J.D. I want to balance both independent analysis and collaborative community impact. My dream would probably be to work within higher education civil rights protections. Anything that I'm doing needs to incorporate passion, equity, continuous learning, and joy.