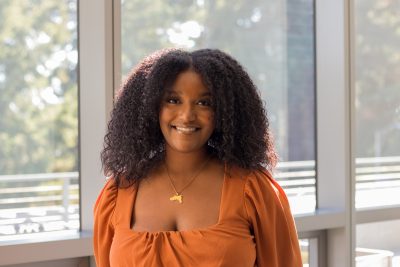 Name: Shewit Alemayehu (she/her)
Contact Information: asuwbddv@uw.edu, Link to Office Hours
Year: Junior
Hometown: Auburn, WA
Major: Public Health
Favorite Place on the Ave: Ku Sushi and Izakaya (10/10 recommend!)
Favorite Place on Campus: I love the Quad!
Fun Fact: I'm a huge (& I mean huge) BTS fan.
What is your favorite part of UW?
My favorite thing about UW is the community. With UW being a PWI it can be difficult to navigate throughout campus and feel like you belong (especially as a Black woman), but throughout my time at UW I have been able to find people who look like me and because of that I have felt comfortable enough to take up space. Another thing I love about UW is the campus as well as the fact that it's in the city, I love Seattle (I'm definitely a city girl!).
How did you get involved with ASUW?
I got involved in ASUW through the Black Student Union. I represented BSU as an ASUW senator, which was amazing. I absolutely adore BSU as well as ASUW Senate. Senate showed me a whole new world and I learned a lot about writing legislation and the bylaws, I am beyond grateful for the experience and the exposure I got.
What does your job entail?
As the Director of Diversity Efforts my job is to is to not only chair the Joint Commissions Committee but serves as a liaisons to the nine student-led ASUW Diversity Commissions. As well as being a liaisons to different diversity entities such as the ECC, the Diversity Council, SARVA, Q Center, Women's Center, etc. My job is to support these different entities by coordinating inter-commission collaboration and diversity programming as well as consistently assessing and researching issues concerning UW students regarding the promotion of diversity!
What are your goals for the future, beyond UW?
My goals for the future beyond UW is to hopefully go into some type of medical career. I would love to open up either a clinic or some type of nonprofit centered around helping sexual assault survivors.