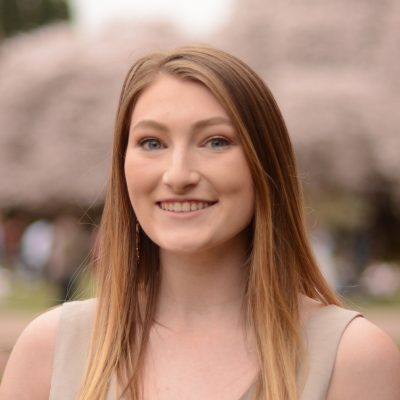 Hometown: Olathe, KS
Major: Law, Societies & Justice and Psychology
Fun fact I was once interviewed to be on the Ellen Show!
Current fave song: "Nights" by Frank Ocean
Favorite Place on the Ave: Tea Republic
What is your favorite part of UW?
While it is hard to pick just one thing, I would have to say the community I have been able to build here has been such an incredible and impactful part of my college experience. Everyone on our campus is doing important and interesting work, and being surrounded by these individuals fuels me to do my own work! Honorable mention to walking through our beautiful campus on a nice day, it at times feels surreal to get the opportunity to attend our institution.
How did you get involved with ASUW?
I joined Student Senate as a sophomore because I wanted to get more involved with things that were happening on our campus. I wanted to know more about the experiences of students in different communities on campus. From there I realized I had a desire to play a bigger role in advocating for student needs and to work with as many different students as possible during my time at UW.
What does your job entail?
I serve as a liaison to a wide range of entities on campus, such as RCSA, the four Greek Councils, Student Athletes, Student Veterans, and Commuter & Transfer students to name just a few. I act as a bridge between these groups and ASUW, making sure that their wants and needs are being considered in important conversations, that they are informed of what is going on within the University, and offering support in any way that I am able to. I also facilitate collaboration amongst entities when possible!
What is your favorite part of working for the ASUW?
I love getting the chance to meet people who I would never have met otherwise. I get to hear about their unique experiences and celebrate students accomplishments and hard work. Seeing the power of the student body first hand energizes me to be the best version of myself I can be, whether that be as an advocate, as a community member, or as a friend. Relationships are the most important thing in my life and the ones ASUW has provided me are some of the nearest and dearest to me.
What career do you hope to pursue long term?
Ultimately I hope to continue to do advocacy work in any capacity that I am able to. I know that I want to continue pursuing higher education and going on to graduate school, whether that be Law School or some other program. I am particularly passionate about Women's Rights, and would love to bring this passion with me in the professional world. My dream job would be working with the United Nations in any capacity I could.