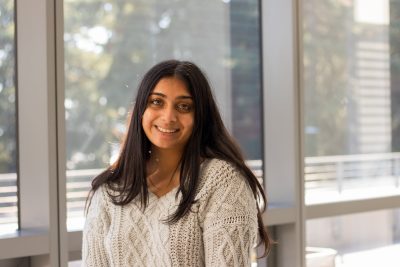 Name: Geeta Iyer (she/her)
Contact Information: asuwbdcr@uw.edu, Link to Office Hours
Year: Senior
Hometown: Kirkland, WA
Major: Economics and International Studies
Favorite Place on the Ave: Noodle Nation, they have the best Thai food for a good price. It's really flavorful and always hits the spot
Favorite Place on Campus: I love Sylvan Grove. It's a beautiful place to walk around and just find some peace and quiet on campus. The greenery is so nice and it's such a unique and important place for UW students. I have fond memories of visiting sylvan grove during freshman year orientation and touching one of the LIFE pillars. Those traditions are what helped me fall in love with our Campus inspired me to get involved with ASUW to make our school the best it can be
What is your favorite part of UW?
My favorite thing about UW are the endless opportunities. Being a large research university we are lucky to have a lot of funding and resources to support student needs. Going to a big school can be intimidating but the benefits outweigh those initial nerves. It's amazing how many programs students can be involved with whether that's research, intramural sports, study abroad, the Greek communities, asuw etc . It's great that students can find opportunities that had never discovered. For example before college I was never involved with student gov but now it's such a integral part of my life. The size of UW allows students to have endless opportunities giving people the ability to try tons of new things until they find something that sticks.
How did you get involved with ASUW?
I joined student senate in 2019 with a few girls in my house. From there I became vice chair of the off campus committee in senate as well as served as a rep on the EAC. Junior year I was the chair of the off campus committee, an intern for the women's action commission and served as a student rep for the bookstore board. Lots of fun involvements showing me different parts of ASUW and campus workings.
What does your job entail?
I am the liaison for campus communities including the veteran affairs, transfer students, Greek communities, residential halls, and athletics. I work to ensure their needs are heard by ASUW and that communities are aware of the resources ASUW can provide them. I also help organize the homecoming scholarship selection committee where we interview and ultimately award the homecoming scholarship.
What are your goals for the future, beyond UW?
I'm still exploring different career options but ideally I'd like to stay in Seattle at least in the short term after college. For the future im interested in pursuing some sort of graduate education, but definitely want to work for a while before going back to school. In the long run I'd hope my work makes a positive impact in society but I'm still figuring out what that looks like for me 🙂