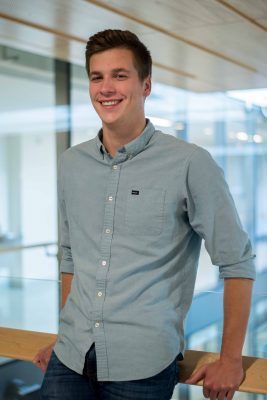 Casey Duff, Director of Internal Policy
Hometown: Olympia, WA
Major: Political Science
How did you get involved with ASUW?
My friend and former Director of Programming Ian O'Keefe told me I should consider running for a spot on the Board. I ended up meeting with some of the other candidates and decided that Director of Internal Policy would be a good fit for my experience and skills.
What does your job entail?
I maintain the records of ASUW and ensure that they are compliant with State Law. Additionally I chair the ASUW Judicial Committee and ensure that any proposed bylaws or constitutional changes are effective and don't create unintended consequences. My job focuses on the minute details of the ASUW policies, and it's my job to answer any questions from volunteers and employees about them.
Favorite part of working for the ASUW?
I'm very lucky to be surrounded by highly engaged and motivated people. Our employees and volunteers are all here because we are passionate about advocating for the student body. I love the feeling that comes with solving problems that are affecting students, and creating positive change on campus.
What career do you hope to pursue long term?
I hope to continue to represent my community in the future. I've always been passionate about politics and the time I've spent working in different areas of government has only strengthened that.