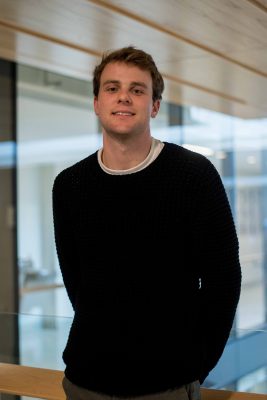 Espen Scheuer, Vice President
Hometown: San Rafael, California
Major: Human Centered Design and Engineering

How did you get involved with ASUW?
Freshmen year I was appointed as a committee member to the Campus Sustainability Fund. From there I got more involved with the fund and applied to the Provost Advisory Committee for Students. This gave me a much broader view of student representation on campus and I decided to run for Vice President.
What does your job entail?
I serve as Chief Operating Officer for the association, working with all of the entities and board members to set goals and meet them. I also specifically liaison to several ASUW entities the Bikeshop, Student Food Co-Op, Office of Volunteer Opportunities, and UW Leaders.
Favorite part of working for the ASUW?
I love working with all of the different entities. It's really exciting to work in an organization where people can work so passionately on so many different causes. I also love hanging out with all the employees and helping people get involved with the association.
What career do you hope to pursue long term?
I want to pursue a career in tech as a Product Manager. I love discovering user needs and working across multiple teams to make meaningful user experiences. Ideally I want to work at the intersection of tech and sustainability making products that help the planet.