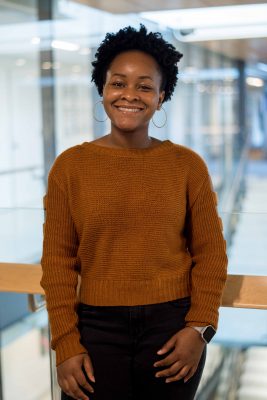 Favour Orji, Director of Diversity Efforts
Hometown: Aba, Nigeria
Major: Bioengineering and Sociology
How did you get involved with ASUW?
I knew the former Director of Diversity Efforts, Kendra Canton who encouraged me to get involved with ASUW my Sophomore year. I was also involved externally through my role as the activities coordinator for the African Student Association (ASA), an experience that allowed me to understand student concerns and needs from the Association.
What does your job entail?
As the director of Diversity Efforts, I liaison to the eight ASUW Diversity Commissions that are committed to making the student experience at the University as dynamic and engaging as possible! I also serve as a member of SAB and liaison to other diverse centers on campus (ECC, Q Center, FIUTS, etc.) Ultimately my role as diversity Efforts is to support these commission directors with any and all diversity programming and advocacy events in an effort to create an inclusive, equitable and comfortable space for all students!
Favorite part of working for the ASUW?
My favorite part has been working behind the scenes and attending the different programming and advocacy events. As well as seeing the amalgamation of different ideas, perspectives and backgrounds to serve the student body!
What career do you hope to pursue long term?
I am currently dual degree in Bioengineering and Sociology, this intersectionality in major is allowing me to gain technical skills while understanding the social implications of my actions as a innovator/researcher. As such, my career aspiration is to utilize my engineering and human relation skills to aid in the research and construction of biomedical devices/systems that can aid in the alleviation and treatment of diseases.