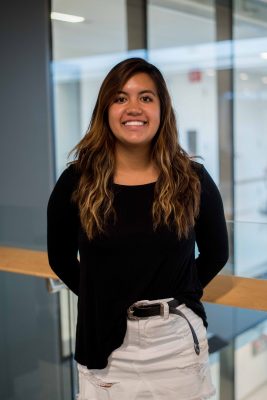 Gabby Rivera, Director of Community Relations
Hometown: Renton, WA
Major:Medical Anthropology and Global Health
How did you get involved with ASUW?
As Panhellenic President, I oversee all the residential sororities on campus and work with a really great executive council to provide advocacy, programming, and resources to the women of our community. Part of that role works with the ASUW Director of Community Relations. I worked a lot with my predecessor, Shawntel, to see where ASUW could support my community and how we could collaborate. I ran for Board of Directors because I was able to get a unique perspective of what a Living Community might need, and I thought it would translate nicely into the Director Community Relations role on ASUW.
What does your job entail?
I act as a liaison to all the living communities: Greek Life, RCSA, Student Athletes, and Commuter/Transfer Students. This provides the opportunity to work with a variety of student leaders from different pockets within the campus. We collaborate to determine how to connect them to resources to better their respective community. Some other parts of my job include: Chairing the Dawg Pack Advisory Committee, working with UW Alumni Association for the Homecoming Scholarship, and working with UW Marketing to put on W Day!
Favorite part of working for the ASUW?
I love working for ASUW because I have been able to meet so many students with so many different stories that all share a common goal of bettering our school community. It's infectious to be around people who care about others. It encourages me to work harder and to be thoughtful about making a long-lasting positive impact on our community within my role on ASUW.
What career do you hope to pursue long term?
With my leadership experience on campus and my passion for health development in various forms (community-wide, globally, institutionally), I'm hoping to to do some type of program management for health initiatives within a non-profit sphere. I'm not sure exactly what lies ahead, but I know I have a passion for serving others and want to continue doing so in my future career.