ASUW :: Associated Students of the University of Washington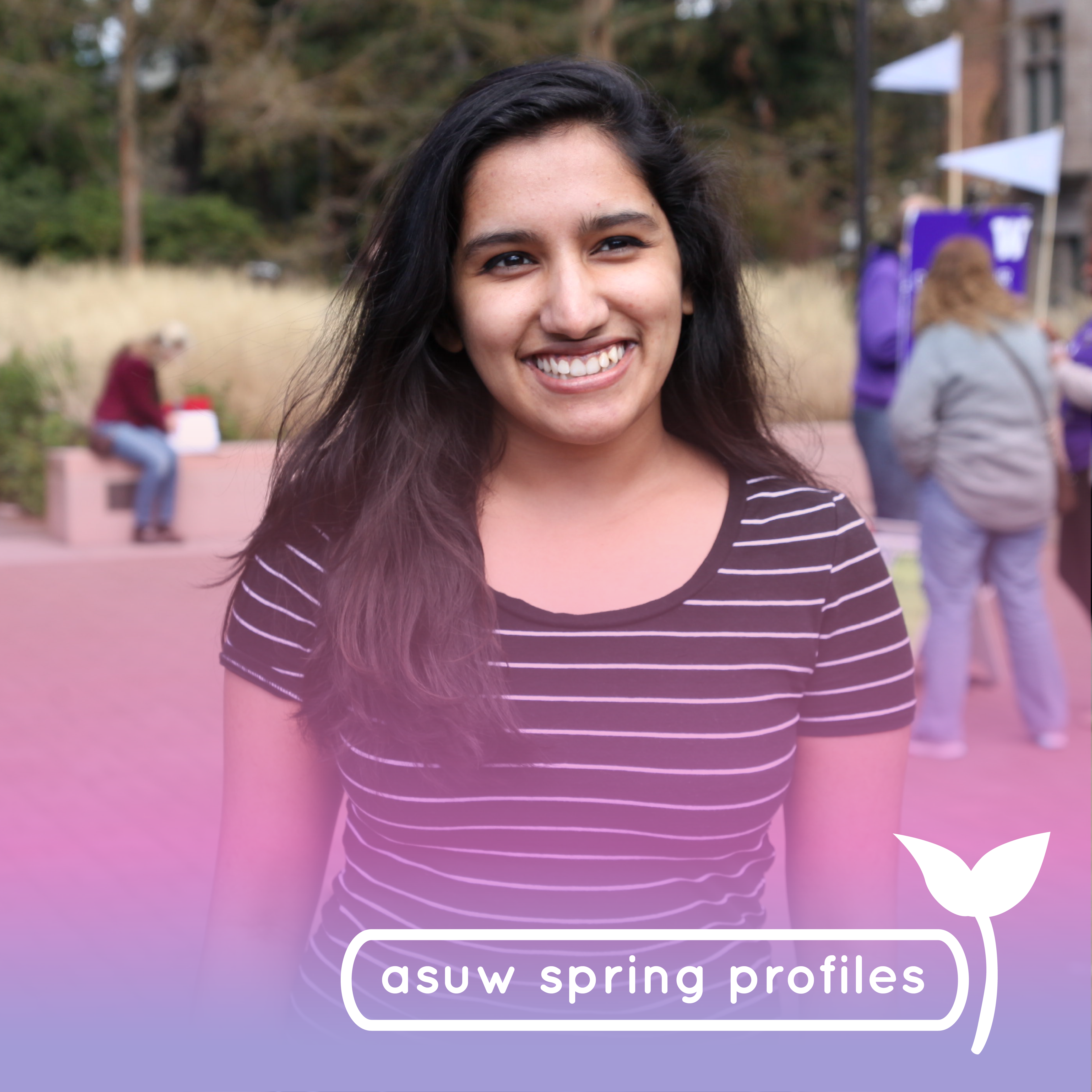 Major: Business Administration
Class Standing: Freshman
Hometown: India

Quote:
This is my first time in the US. So far it's been amazing meeting really great friends and roommates. Getting involved in my interests have allowed me to establish a really great community.
What are you involved in around campus?
"Before coming to UW, I reached out to a professor in the marketing department and he gave me a few research projects. So I'm still involved with that; I'm a research assistant for the Center of Sales and Marketing Strategy. I'm also involved with UW Leaders starting in the Winter and now into Spring, so that's been really great experience too. I'm also interested in Supply Chain Management, so that's why I got involved with the Supply Diversity Program.
Can you tell us more about the research you're doing?
"At first I usually ask him for projects and he gives them to me, so there's no sort of work-hour basis. I reached out to him before coming to UW, and he gave me a project as soon as I reached UW. I'm currently working on my sixth or seventh project so far. Over the breaks he gives me projects; so, spring break he gave me a project and it's due in April. It takes about fifteen to twenty hours out of my week. It's interesting and I have to do a lot of research with it, so I get to learn about a lot of different companies. The project I'm working on now is on CRM (customer relationship management). So, I have to look for companies that are part of this excel sheet and look for articles related to CRM."
What has been the most valuable experience you've had at UW?
"In UW Leaders, it's amazing that there's so many people from various communities; they're so diverse. I want to improve on my leadership skills, so each workshop I get to learn a new skill. It helps me become a better person, and that's amazing…there's so many aspects to leadership that are important. Like communication, it helps you effectively bring out your point and make sure the person you're talking to understands clearly. To me that's pretty important."."
How was your transition to UW, especially coming from India?
"This is my first time in the U.S. So far it's been amazing meeting really great friends and roommates. Getting involved in my interests have allowed me to establish a really great community."
What does a day in the life look like for you?
"I usually wake up early in the morning and head to campus. I stay on campus until around 5. After, I head to the gym to help me unwind after a long day. Then I spend some time with friends at night, do some work, and go to bed."
What advice would you give to incoming freshman, international, or transfer students?
"UW is a pretty big community. So as a freshman you come here and feel pretty lost in what to do, since there's so many things to do. I feel like incoming students should join clubs and grab opportunities that they're interested in so that they can meet people who like the same thing as you. So that way you can get your own community and make new friends."