ASUW :: Associated Students of the University of Washington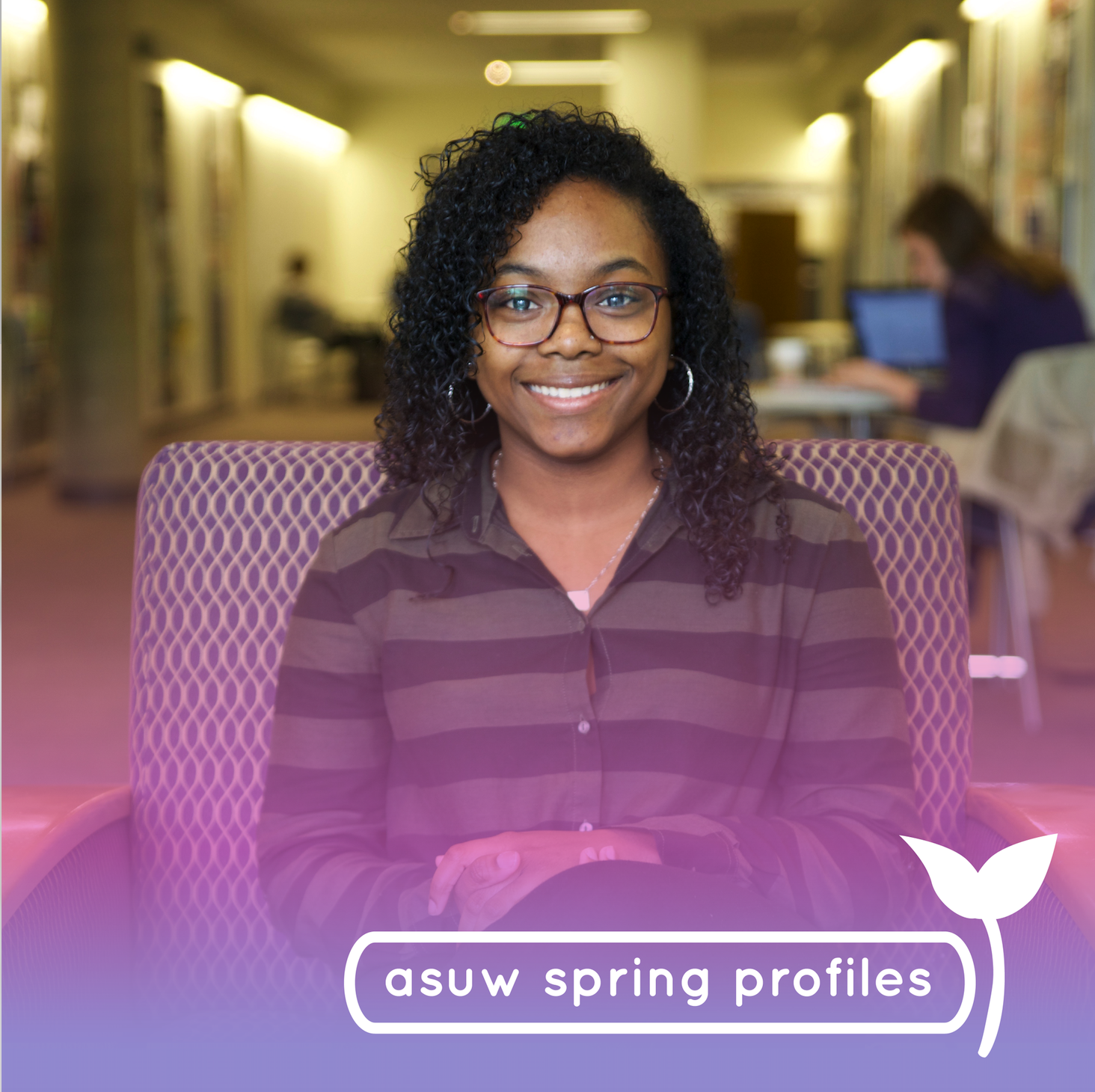 Major: Psychology and Communications
Class Standing: Senior
Hometown: San Diego, CA

Quote:
"There are so many possibilities of what could be made of this time, don't limit that or leave that decision up to other people. Major what you want to major in, you will be successful in your own right as long as you work hard. You're also going to change a lot and don't be afraid of that. "

What are you involved in around campus?

Well currently I tutor, I am a McNair scholar, I work in a psych lab and I was previously involved in the UW Women's Lacrosse club. In terms of being a McNair scholar and a part of the Ronald E. McNair Program, I was given the opportunity to do my own independent research which looked at the relationship between race and interpersonal and structural diversity initiative evaluations and using oppression and group identification as a predictor, and it will be published in their annual journal. It was a great look into the work I would be doing in grad school if I stick with psychology.
For Lacrosse, I played my freshman year and unfortunately due to a few concussions and a knee surgery my actual physical role had to end early, because I want to be able to walk when I am forty. So my role shifted to more of a leadership role and working on the logistics side of running the club, since it's completely student ran.

What is the most valuable experience you've had at UW?

I have two. I would say a few teachers had a huge impact on me. I don't think they know it but being in their classes really changed my perspective on things and what was important for me to gain here, in terms of my education. So, Professor Harris (Soc), Professor Joseph (Com), and Professor Beckett (LSJ), all made it seemed liked they genuinely cared about the class and us as students taking the information and doing something good with it. And the topics they talked about really challenged the world view I had coming into college, and I think and hope I'm a better person for it.
I think my other most valuable experience came last year. We had a very successful run during the regular season, and having to sit that out and watch from the sidelines was difficult because I knew my potential on the field and not being able to physically contribute made me feel basically worthless. I felt stuck, but it really challenged me as a person to learn how to lead with my voice and be there for my teammates in a different way. And honestly, shoutout to my team for always making me feel truly apart of the team. Especially when we made it to nationals, and not being able to experience that for myself on the field, that was a difficult pill to swallow. But I did everything I could to make sure they knew I was there that season. Taking and analyzing stats, rolling out quad knots, warming up our goalies, being the best water-girl known to man, cracking a joke to ease the tension. That was kind of my way of pulling my weight and saying thank you for still letting me be there in any capacity, and I hope they know how much that meant to me.

How was your transition to UW?

My transition to UW was interesting. I came here basically all by myself from my high school, except for one guy who was coming here for football, but I never saw him. And my little brother was two at the time, so leaving him was rough. I definitely facetimed my mom every night. All I had access to were the people on my floor and my roommates, so I really had to step out of my comfort zone and form a foundation here. And if it wasn't for my roommate I probably wouldn't have went out for lacrosse. I was so nervous, and she said the most obvious thing, but it opened my eyes. She said, "if it doesn't work out, you can always walk away. At least you tried." And with that I went to the fall workouts, and never looked back.

What does a day in the life look like for you?

Well, I'm about to graduate so I have been taking a full load and I work in between classes. So typically I wake up, eat a bowl of oatmeal, then I go to class, tutor in between, and head to lab if I am needed, get home and do homework. Usually my roommates and I try to watch an episode of two of whatever show we are watching just to take a bit of a mental break and relax. Or we head over to our friends' house and play Mario kart, or some sort of card game. Oh, we are really into puzzles! It's kind of boring but I'm a bit of a homebody, so I don't mind.

What advice would you give to incoming freshmen and transfer students?

I would say to just go out for whatever you want to do, and don't be afraid to try new things or embrace things you love that might be "embarrassing," just because you're in college now. Like, I still take full pride and hold dear with no shame my geeky band camp stories from high school.
I would also let them know that their decision is ultimately the only one that matters. There are so many possibilities of what could be made of this time, don't limit that or leave that decision up to other people. Major what you want to major in, you will be successful in your own right as long as you work hard. You're also going to change a lot and don't be afraid of that. Really embrace the growth process. And last thing, people are a lot nicer than you think, don't be afraid to talk and meet new people! The people I have met, even up until this quarter, my last quarter here, they've truly made this experience.