ASUW :: Associated Students of the University of Washington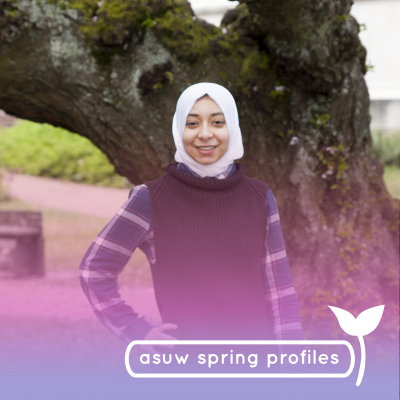 Major: Medical Anthropology & Global Health (MAGH) and Communications
Class Standing: Senior
Hometown: Redmond, WA

Quote
"One piece of advice that really stuck with me, that a professor gave me was to do as much as you can, but at the end of the day, it is just a test or an essay. Do as much as you can and be satisfied with it. Don't overwork yourself. There are more important things in life."

What are you involved in on campus?
"Coming into UW, I didn't know any pre-health clubs, so I used the club directory to find anything pre-health related. I started going to all the meetings for the different clubs until I found one that gave me all the resources I needed and that I really benefitted from. I started attending the meetings for DDS, and by the end, I decided I wanted to be an officer the following year. I applied for the elections and I got in!
The other one is Pillars of Service. I knew a few people who were in it from beforehand who helped me get involved. I've really enjoyed doing community service, ever since I was in high school. It's something I feel really passionate about. One thing we always do is called Project Seattle. We come together on a Friday and make sandwiches for a local shelter. And on Saturday morning, a few volunteers to take the sandwiches and distribute them. It's really nice and rewarding, because you have all these people come up and thank you, and they're like 'Oh that's really nice of you.' You learn about their stories and they learn about yours. You go home thinking, 'Wow, it was a good day, I did something'".

What has been the most meaningful experience you've had at UW?
"My whole UW experience has been multiple meaningful moments coming together, and they've shaped who I am and shaped my experience here and made me really, really enjoy it. That includes the classes I've taken, professors I've had, and the connections I've made. It's also definitely the friends I've made and the clubs I've been part of. It's all of these factors together that make you really enjoy the school."

What are you doing after graduation, since you're a senior?
"I'm going to UW School of Dentistry next year. I'm excited! I just heard back!"

How was your transition to UW?
"I did running start for two years, so I had already kind of gotten used to the idea of a quarter system. But what I found more challenging was the larger class size. At Bellevue College, the biggest class was around 35 or 40 students, and that was considered huge. In those classes, you had personal interactions with the professors and you could tell that they genuinely cared. Coming here and taking Biochemistry, for example, with 700 other students was difficult. You really have to put yourself out there and be comfortable asking questions and going to office hours, and that was hard for me. Also, navigating the campus was difficult. I always had my phone out and I'd reposition it to figure out where I was and where I was going. But you start remembering buildings."

What does a day in the life look like for you?
"An easy day would be my Monday's, where I grab a cup of coffee or chai latte on the way to class. Afterwards I go to the gym, then to my second class, and then go home for the day. Wednesdays are my hard days. I have all my classes back to back and then I have both of my club meetings also back to back. So it's a full day from 9:30am to 6:30pm."

What advice would you give to incoming freshmen or transfer students?
"One piece of advice that really stuck with me was to do as much as you can, but at the end of the day, it is just a test or an essay. We go into exams stressed, we pull all nighters, we skip meals, and we tend to forget that it's just an exam at the end of the day. That one exam is just one thing in your whole entire college experience. That one test or essay isn't going to determine your whole life. So yes, you should put effort and do as much as you can, but don't stress so much to the point where you're drinking three Monsters a day just to finish an assignment or to get a perfect grade. Do as much as you can and be satisfied with it. Don't overwork yourself. There are more important things in life."